Announcements

In recognition of the importance of conferences in the professional development of scholarly skills and dissemination of research, the College of Health & Social Sciences is offering CHSS Faculty Conference Travel Awards of up to $1,200 for faculty to support the presentation of their peer-reviewed scholarship at professional conferences.
Tenured/tenure-track faculty at all ranks and all lecturers are eligible for the award. Review of applications started September 5. Please direct any questions to Kate Hamel, Assistant Dean for Faculty Development and Scholarship: hamelk@sfsu.edu
For further details regarding eligibility, allowable travel dates and restrictions please see the online application.
SF State RSCA Fund Competition
Deadline: October 10 at 9 a.m.
The University has announced that there will be two opportunities for funding for the 2023-2024 AY through the SF State Research, Scholarly and Creative Activity (RSCA) Fund Competition: the DRC grant (T/TT and all lecturer faculty are eligible) or the ORSP small grant (T/TT and lecturer faculty with PI status are eligible). Please visit ORSP's website for more information.
Faculty interested in applying must submit their applications by Tuesday, October 10 at 9 a.m.
CHSS will be holding two workshops to help faculty prepare their grant applications on:
Friday, September 15, 10:30 a.m.–12 noon (Zoom)
Wednesday, September 20, 12:30–2 p.m. (Zoom)
Please contact Assistant Dean Kate Hamel at hamelk@sfsu.edu to RSVP for the workshop of your choice or if you would like to schedule a one-on-one meeting to discuss your grant proposal.
Faculty: Our practice of writing doesn't have to be sporadic or lonely! Instead, it can benefit from a regular place and time to meet up with colleagues and write together with quiet, focused attention. We want to support faculty writing projects by creating writing meet-ups within the College and sharing other opportunities for writing meet-ups already taking place within our campus community. To do so, please respond to this short survey.
News
Professor of Social Work Yeon-Shim Lee and her colleagues were awarded a research grant from the Alzheimer's Association to study psychosocial and cultural factors that affect Alzheimer's Disease and Related Dementia (ADRD) screening and develop health intervention among Indigenous populations in the Northern Plains.
Building upon their previous findings that Indigenous populations have high levels of health/mental health problems yet underutilize health/mental health services, the proposed study conceptualizes low ADRD literacy as a major reason for service underutilization and a central focus of intervention efforts. The overall goals are to increase understanding of the levels of knowledge on ADRD manifested in the target population and to lay the groundwork for the development of a culturally tailored health intervention. Future work must improve culturally grounded understanding and awareness of declining cognitive ability among older Indigenous people.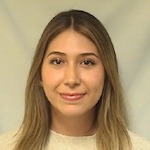 Doctor of Physical Therapy (DPT) student Georgina Orozco has received a 2023 Rizing Tide Foundation Crest scholarship. The scholarship is awarded to outstanding physical therapy students from underrepresented racial or ethnic backgrounds who are entering their first or second year of a DPT program. Rizing Tide is dedicated to creating a more racially diverse and inclusive physical therapy workforce.
Zubaida Qamar, associate professor of Nutrition & Dietetics (Family, Interiors, Nutrition & Apparel Department) recently completed a Climate Farm School course at Green Valley Farm and Mill in Sonoma County. The one-month course included online training and on-farm experience focused on regenerative agriculture and climate impacts on food systems. The course is aimed at mid-career professionals in a variety of fields who are passionate about food and climate.
See photos and article in the San Francisco Chronicle.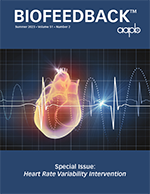 Professors Erik Peper and Richard Harvey (Department of Recreation, Parks & Tourism/Institute for Holistic Health Studies) and students Singing Chen and Nicholas Heinz, coauthored an article titled, "Hope for menstrual cramps (dysmenorrhea) with breathing." The article, published in Biofeedback, suggests that women may be able to reduce menstrual cramps with guided diaphragmatic breathing and imagery.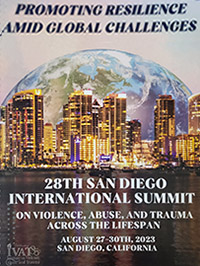 Ricka White-Soso, a lecturer in the School of Social Work, was a panelist at the 28th San Diego International Summit on Violence, Abuse, and Trauma Across the Lifespan, held August 27–30. The session was titled "Racial Trauma and Culture Healing (Addressing Lateral Violence)." The abstract explains, "Lateral violence occurs when members of an oppressed community into have 'internalized the oppressor' and engage in acts of oppression within their communities even though the true adversaries are historical and ongoing colonialism, internalized racism, and oppression in other forms." The presentation explored the ways lateral violence can be present in communities and shared strategies to counter lateral violence and support community healing.
Current Events
CHSS Brown-bag Lecture
Care for Us First: Performing Heart Work and Providing Trauma-Informed Teaching
CHSS proudly announces the return of its annual college lecture series. We will be hosting one lecture in the fall and one in the spring. Please bring your lunch and join us for our upcoming lecture on trauma-informed teaching presented by Assistant Professor of Social Work Erica Bosque, Ed.D, LCSW, PPSC.
Monday, October 2, 11:30 a.m.–12:30 p.m., LIB 121

Alumni Corner
Julian Prince Dash, a former student in Apparel Design &. Merchandising and founder of Holy Stitch Factory Fellowship has received support from San Francisco's Vacant to Vibrant program. Vacant to Vibrant is a city-funded program that aims to revive San Francisco's Economic Core (aka "Downtown") by helping small businesses, entrepreneurs, artists and cultural organizations activate vacant storefronts to revitalize the area and promote economic recovery.
Holy Stitch is a 501(c)(3) non-profit whose mission is to use the art of sewing in a factory-school blend, dedicated to transforming young lives by creating a hub for skill-building, creativity and job creation.
Dash is also interviewing now for potential interns and volunteers for his programming needs.
Listen to his interview with KPIX below to hear him explain the program and the joy he has found in empowering youth by nurturing creativity and building confidence.
CHSS in the Media
In his weekly podcast Policing Matters, Criminal Justice Studies Lecturer Jim Dudley spoke with Leigh Anne McKingsley, director of The Arc's National Center on Criminal Justice and Disability, about how law enforcement can improve response to persons with intellectual and developmental disabilities. 
The podcast episode was featured in The Boost Blog, which highlights developmental disability news.
View the podcast below.
Submit an Item
The deadline to submit items for the September 27, 2023 issue of CHSS Connection is September 21. Send submissions to mbroder@sfsu.edu.