Announcements
The College of Health & Social Sciences will host a retreat on Monday, April 17, from 10 a.m. to 3 p.m. at Balboa Park, which is one long city block from the Balboa BART Station.
Coffee, tea, bagels and pastries will be served at 10 a.m., and lunch will be catered by Colombo's Deli around noon. Faculty and staff are welcome to stop by any time. Join us for a day of sun, fun, delicious food and team building activities.
For those who are able to join us (even if it's just for a little while), we will be gathering near the grassy area on the corner of San Jose Avenue and Havelock Street. Feel free to use the linked map and directions, and refer to the "X" across from the Balboa Pool (toward the upper right-hand corner of the map).
Please RSVP by Monday, April 3 if you would like to attend so we can get a headcount.
The College invites undergraduate students to present their research, scholarship and creative works at the first annual CHSS Undergraduate Showcase, to be held at the Seven Hills Conference Center on Thursday, May 4 from 11:30 a.m. to 2 p.m.
All CHSS undergraduate students, regardless of their research experience, are encouraged to enter their projects. Student work from Fall 2022 or Spring 2023 is eligible, and presentation formats will include posters, models, dress forms, interactive displays and other appropriate formats. Both individual and group projects from capstone/culminating experience courses, independent studies or developed as class assignments are welcome.
Given the size of the conference center, we will be limited to 70 projects for our first year. We will accept applications in the order that they are received until the showcase is full.
In recognition of the importance of the acquisition of scholarly skills and the development of new research activities, the College of Health & Social Sciences is offering professional development grants this semester for faculty to acquire or expand new competencies, pursue new directions and support the dissemination of their scholarship.
Priority review begins March 20, 2023
Tenured/tenure track faculty at all ranks and lecturers are eligible for the award. Please direct any questions to Kate Hamel, assistant dean for faculty development and scholarship: hamelk@sfsu.edu.
The award will cover approved expenses (described below) up a maximum of $2000 per faculty member; the maximum for lecturers below a .6 timebase will be prorated based on their timebase this semester; lecturers at a .6 timebase or above will receive full funding up to the maximum of $2000. Funds must be used for the approved purposes only and spent by June 10, 2023.  The spending and request for reimbursement deadlines are firm. The College will not process reimbursements after this date and will not approve exemptions.
Nominations for SF State's 2023 Distinguished Faculty and Staff Awards (DFSA) are now open. These awards are an opportunity for our campus to recognize and honor outstanding tenured faculty, full-time lecturers and staff who have demonstrated significant, long-term contributions to the University and to their disciplines. By recognizing the achievements of distinguished faculty in the areas of teaching, professional achievement and growth, and service (faculty and staff), the campus community celebrates the University's climate of excellence. Visit the Academic Senate website and the Faculty Honors and Awards Committee website to complete the online nomination form by Monday, April 10.
The DFSA committee will identify five award recipients. Serving on the DFSA committee will be:
Fatima Alaoui
Leia Bagesteiro
Rosa Carmoa
Catriona Rueda Esquibel
Zhaoshuo Jiang
Mohammed Nadeem
Todd Roehrman
Aiko Yoshino
If you have any questions, please contact members of the DFSA committee.
Nominate a faculty colleague for CHSS Excellence Awards in Teaching, Service and Scholarship
The College of Health & Social Sciences is deeply committed to excellence in teaching, service and scholarship. We are now accepting nominations for the 2023 CHSS Excellence Awards, which will be presented at the Fall Opening next year.
Each faculty award includes $750 and a certificate signed by the dean and associate dean of the College of Health & Social Sciences. The recipient's name and year of award will appear on a plaque displayed near HSS 238. Student research assistants involved in the faculty Excellence in Scholarship Award will also be honored at the Fall Opening, where they will receive an award certificate and gift from the College. Awardees are required to be present at the Fall Opening in order to receive the award. 
Nominations are due by April 14.
Events & Media
Master of Public Administration Prospective Student Information Session
Wednesday, March 22, 12-1 p.m., via Zoom
M.A. in Gerontology Prospective Student Information Session
Thursday, April 6,  7-8 p.m., via Zoom
Recreation, Parks & Tourism Alumni Professional Panels
Tourism & Event Planning - Thursday, April 6, 6:30-7:30 p.m. via Zoom
RPT to Tech - Thursday, May 4, 6:30-7:30 p.m. via Zoom
From Polarization to Integration: A New Vision of Health, Activism & Cultural Evolution
Friday, April 21, 9:30 a.m.-5 p.m., LIB 121 and via Zoom
CHSS Undergraduate Research and Creative Works Showcase
Thursday, May 4, 11:30 a.m.-2 p.m., Seven Hills Conference Center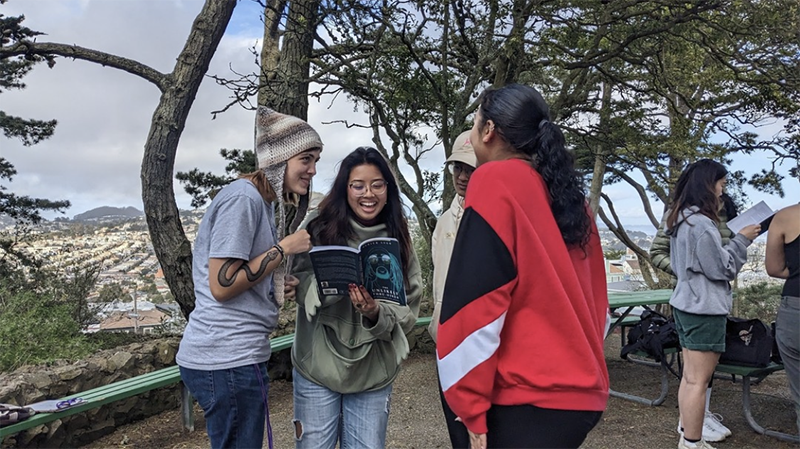 Students in "RPT 230: Growth Through Adventure" took their first field trip to San Francisco's Brooks Park. Source: @sfsurpt on Instagram
Submit an Item
The deadline to submit items for the April 5, 2023 issue of CHSS Connection is March 29. Send submissions to mbroder@sfsu.edu.