Submit an Item
The deadline to submit items for the February 28, 2023 issue of CHSS Connection is February 22. Send submissions to mbroder@sfsu.edu.
Feature Story

A Recreation, Parks & Tourism major finds an exciting career with professor's support
This feature story is one in a series of articles on the CHSS website aimed at inspiring students to succeed. The story describes how the opportunity to engage with her professors in the Recreation, Parks & Tourism Department helped launch Lei Asato (B.S., '17) on her professional path.
Announcements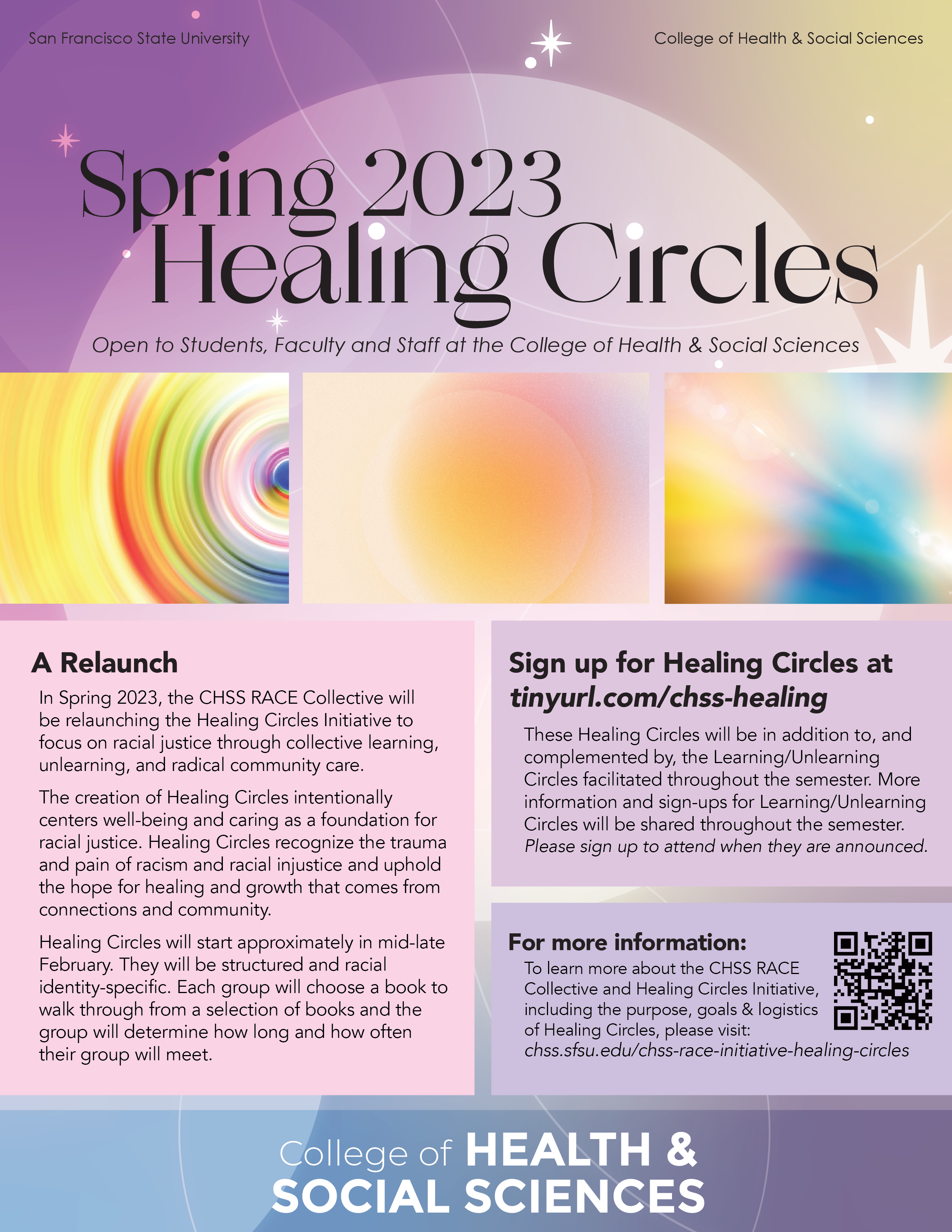 In Spring 2023, the RACE Collective will be relaunching the Healing Circles Initiative to focus on racial justice through collective learning, unlearning and radical community care. 
Healing Circles will start this month. They will be structured and racial identity-specific. Each group will choose a book to walk through from a selection of books and the group will determine how long and how often their group will meet.
The deadline to sign up for Healing Circles is Wednesday, February 22.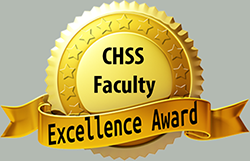 Nominate a faculty colleague for CHSS Excellence Awards in Teaching, Service and Scholarship
The College of Health & Social Sciences is deeply committed to excellence in teaching, service and scholarship. We are now accepting nominations for the 2023 CHSS Excellence Awards, which will be presented at the Fall Opening next year.
Each faculty award includes $750 and a certificate signed by the dean and associate dean of the College of Health & Social Sciences. The recipient's name and year of award will appear on a plaque displayed near HSS 238. Student research assistants involved in the faculty Excellence in Scholarship Award will also be honored at the Fall Opening, where they will receive an award certificate and gift from the College. Awardees are required to be present at the Fall Opening in order to receive the award.
Nominations are due by April 14.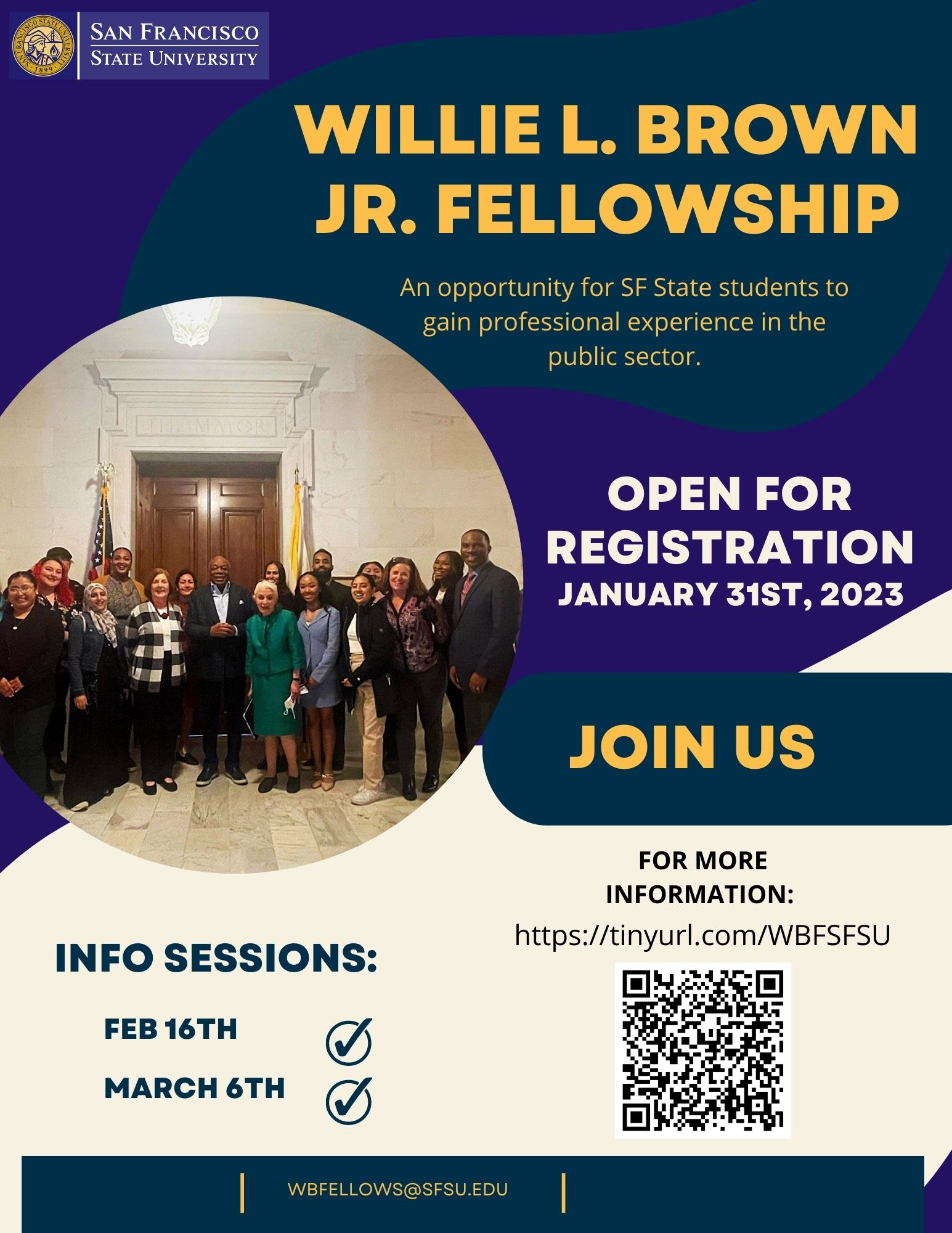 Tell your students! The Willie L. Brown, Jr. Fellowship Program provides SF State students who have faced barriers pursuing a college education with an opportunity to gain professional experience in the public sector while developing a lifelong commitment to public service. Students who have completed 60 units, are in good standing (GPA of 2.0 or above) at the beginning of the Fall 2023 semester and are interested in public service are eligible to apply. We welcome students from all majors. Selected students are awarded a $3,000 stipend!
The deadline to apply is Tuesday, March 14, 2023. Email wbfellows@sfsu.edu with questions. Prospective applicants may attend in-person info sessions to speak with recent alumni of our program:
Thursday, February 16, 5 -6 p.m. in LIB 121
Monday. March 6, 5-6 p.m. in LIB 286
Are you conducting research, planning an important conference or event, publishing a book or paper, receiving a significant grant or award or overseeing a unique project in your classroom or community? If so, your efforts or expertise may be of interest to the news media. The Strategic Marketing & Communications (SMC) Office is your connection to local and national media outlets. SMC reaches news outlets throughout the Bay Area, state and nation. By highlighting your achievements, SMC can reach new, large and important audiences to build support for SF State.
These guidelines can help you determine whether your story may be of interest to the media.
Please send your story ideas to CHSS Communications Director Michael Broder at mbroder@sfsu.edu and SMC Science Content Specialist Kanaga Rajan at krajan@sfsu.edu.