Relationships with faculty help students get the most out of their degree
A Recreation, Parks & Tourism major finds an exciting career with professor's support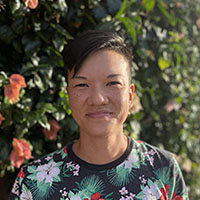 When students engage with their professors, they get help cultivating their interests into a career path and make networking connections to start their professional life. Lei Asato (B.S., '17) is a case in point. Asato graduated from SF State with a bachelor of science degree in Recreation, Parks & Tourism Administration. Since leaving SF State, she has worked in tourism, travel and events.
Asato had worked for 10 years in the culinary field with an associate's degree in Culinary Arts and Hospitality Management before deciding to go back to school. Recreation, Parks & Tourism appealed to her because she saw where some of the skills she already had could be an asset.
"Once I found that degree path, I was enthralled. I learned a lot about outdoor recreation, inclusivity in the outdoors and ecotourism," Asato said. "I think when I first signed up, I thought it was going to be really heavy in administration, but there was a much broader depth of history and context."
The in-person engagement and overall energy that professors put into the courses is a big part of what made Asato's experience at SF State so impactful. "Professors really tried hard to make the classes feel experiential and make it feel like it was applying to real life," she said.
Every lesson was applicable to the broader concept of a Recreation, Parks & Tourism degree. Asato felt professors made sure that lessons had follow-through, so students could reflect on the meaning of the lesson with questions such as, "What value did the activity bring to your education?" Asato still uses these questions in her career as an events manager, showing that the lessons at SF State truly transcend the classroom.
The major offers an emphasis on learning how to teach about Recreation, Parks & Tourism, as well as getting outdoors and being able to facilitate and participate in activities. The small student-to-teacher ratio in the major allows students to build relationships with professors. In Asato's experience, professors were always willing to take the time out of their days to talk with students about career paths and classes. She is still in contact with Professor Pavlina Látková, whose support throughout her time at SF State made a big impact on her professional and personal growth. 
Látková has connections at the San Francisco Travel Association, which is where Asato was able to do her internship. Látková was an integral part of helping Asato find and secure an internship that fit her specific interests. From that internship, she was hired on as a senior associate at the San Francisco Travel Association, where she worked in visitor experience.
She went on to work at Olivia Travel, where she was a program manager in charge of building experiences for the charters. She currently works as an event team lead at Maritz Events.
Asato said, "If you're thinking about joining Recreation, Parks & Tourism but you're worried that there is not a trajectory after, that's absolutely not true. A piece of advice if you are already a major, is get as much out of it as possible with the professors. The professors are an incredible resource and are well-connected in the city."
Tags