Headlines
In Spring 2023, the RACE Collective will be relaunching the Healing Circles Initiative to focus on racial justice through collective learning, unlearning and radical community care. Please take a look at the video message above from our new director of Healing Circles, Sherria Taylor, explaining why Healing Circles matter in CHSS and what we hope to create and sustain through the Healing Circles Initiative.
Healing Circles will start approximately in mid-late February. They will be structured and racial identity-specific. Each group will choose a book to walk through from a selection of books and the group will determine how long and how often their group will meet.
Faculty are needed to serve as area as judges for the annual SF State campus-wide Student Research Competition. The campus-level competition will be held in-person February 27-March 3 in LIB 121 and LIB 286. Judges' responsibilities are to evaluate students' research projects and presentations in accordance with guidelines of the competition and ratings forms. Please consider serving as a judge in the Health, Nutrition and Clinical Sciences category. Interested faculty should email Khaled Ezzat at khaled@sfsu.edu and Sarah Nelson at sarahnelson@sfsu.edu. See the flyer for more information about the event.
Please spread the word to your students about the Dr. Morris R. Lewenstein Memorial Scholarship for Social Science Undergraduate and Graduate Students. This scholarship is being offered and awarded through the College of Health & Social Sciences for the benefit of students in the social sciences. (See below for the list of qualifying majors.) The application process and review will take place in Spring 2023 and the scholarship will be awarded at the beginning of the Fall 2023 semester. The scholarship is in the amount of $2,500.
Social Sciences disciplines, defined solely for the purposes of the Lewenstein Scholarship include: Anthropology; Child & Adolescent Development; Counseling; Economics; Ethnic Studies: Africana, American Indian, Asian American, and Latina/o Studies; Family Interiors Nutrition & Apparel; Geography; Health Education; History; International Relations; Labor & Employment Studies; Criminal Justice Studies; PACE (Environmental Studies, Gerontology, Public Administration, Urban Studies & Planning); Political Science; Psychology; Recreation, Parks & Tourism; Social Work; Sociology/Sexuality Studies; Women & Gender Studies.
Applications for the Fall 2023 scholarship are open now through April 2, 2023. More information can be found in the flyer below.
The CHSS website is publishing a series of stories on the theme of student success. This story spotlights "Holistic Health 200: Holistic Approaches to Academic Success," a course focused on giving students the tools needed to succeed in college. The course, taught by Professor Adam Burke, uses a comprehensive problem-solving model to help students apply the skills they are learning to problems that are affecting their everyday success in school or life — by defining the problem, determining the goal, choosing a solution, implementing an action plan, evaluating and redesigning as needed.
An essay by Lecturer of Child & Adolescent Development Jennifer Arin titled "The Missing Link in Academic Advising: The Faculty Perspective," which was published by the Chronicle of Higher Education in August 2021, has also been selected by the Chronicle for inclusion in their just-released book, "The Future of Academic Advising: Strategies for Student Success."
Arin also will be moderating a panel at an upcoming NACADA conference, February 27-March 1, with the co-editor of a NACADA publication titled "Advising is Forever," which features a different essay by Arin ("Diplomacy, Head Butts, and a Proverb's Wise Counsel").
Adam Burke, professor in the Department of Recreation, Parks & Tourism/Holistic Health, gave a presentation at the American Association of Colleges and Universities (AACU&U) Annual Meeting in San Francisco on January 19. The talk was titled, "Learning problem solving to manage school/life challenges: the impact on student success in college." The talk noted the positive outcomes for minority, first-generation and low income SF state students in terms of retention, graduation, course completion and cumulative GPA.
Burke was recently interviewed by Paul Basken, North America editor for Times Higher Education. The interview focused on Burke's Holistic Health Studies course, "HH 200: Holistic Approach to Academic Success," and its positive impact on student success, especially among students from historically disadvantaged groups. For example, the article noted superior graduation rates for underrepresented minority students (7% higher than matched peers), as well as 7% higher for Pell-eligible, and 14% higher for first-generation students. Burke noted that these are the kinds of outcomes that many institutions of higher education seek but are not always able to reach. The study also observed a transfer of knowledge, with students taking the course as freshmen having the highest GPA change (5% higher than matched peers) versus seniors (only 1% higher). It appeared that the more time students had to use the skills, the more benefits they accrued. The article, "Want to improve students' grades? Teach them life coping skills," was published on January 13, 2023. Times Higher Education is a London-based magazine reporting on global higher education news and issues.
Professor of Nursing Fang-yu Chou gave an invited talk on "The Synergy of Nursing Education, Scholarship and Practice: Challenges and Opportunities" in December 2022 at the College of Nursing of Kaohsiung Medical University, Taiwan. The talk discussed the ongoing process of professional role formation in nursing education, scholarship and clinical practice. Chou also explored the challenges of maintaining the balance and opportunities of synergizing the three areas.
Professor Erik Peper (Department of Recreation, Parks & Tourism/Institute of Holistic Health Studies), gave two invited presentations in Tel Aviv in January.
On January 17 he presented "Make Health Happen with breathing, posture, stress management and biofeedback," sponsored by the Israeli Biofeedback Society and Israeli Applied Psychophysiology and Biofeedback Society. The advanced biofeedback presentation incorporated Make Health Happen concepts for practitioners who are engaged in the integrated biofeedback and want to learn ways to teach stress reduction and improving performance.
On January 18 he presented "Combining physical tools in the treatment and development from an evolutionary perspective," sponsored by The School of Resilience from the Cohen-Harris Resilience Center. The focus of Peper's presentation was strategies to strengthen resilience and internal resources to deal with on a daily basis and in crises situations. The presentation explored why in more than 70 percent of those with a physical complaint, no physiological basis for the symptoms are found. Most likely the major contributing factors are the result of lifestyle and stress. Peper framed the concepts from an evolutionary perspective and its effect on the self-regulation processes of the human being. He described the therapeutic strategies as suitable for integration into an intervention with a variety of mental and physical conditions including anxiety disorders, panic, PTSD, hypertension, recurrent abdominal pain, dysmenorrhea, asthma and pain. The discussion included a variety of psychophysiological techniques and tools for regulating stress and connecting to emotions that can also be applied in enhancing resilience.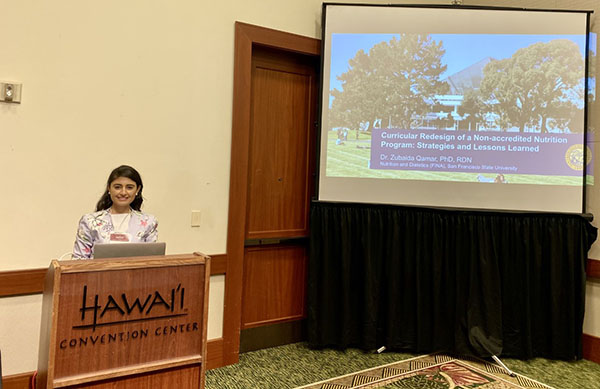 Assistant Professor of Nutrition & Dietetics and Registered Dietitian Zubaida Qamar (Family, Interiors, Nutrition & Apparel Department) presented about Teagle Foundation grant-funded curriculum redesign work in January at the International Conference on Education in Honolulu, organized by The International Academic Forum. Qamar presented insights and lessons learned from the redesign process conducted with the Foods and Community Nutrition concentration under the Nutrition and Dietetics major.
Rebecca Toporek, chair of the Department of Counseling, was invited to participate in the 2023 Thought Leaders Summit this February sponsored by the Center for Diversity and Inclusion in Higher Education (CDIHE). The forum brings together a select group of scholars, administrators and advocates across higher education to discuss theory, research, methodology and practice related to our theme. During the summit, thought leaders will critically assess conventional notions of anti-racism dialogues and outline a collective manuscript contributing to the CDIHE's broader national research agenda regarding equity and justice in higher education.
Feature Story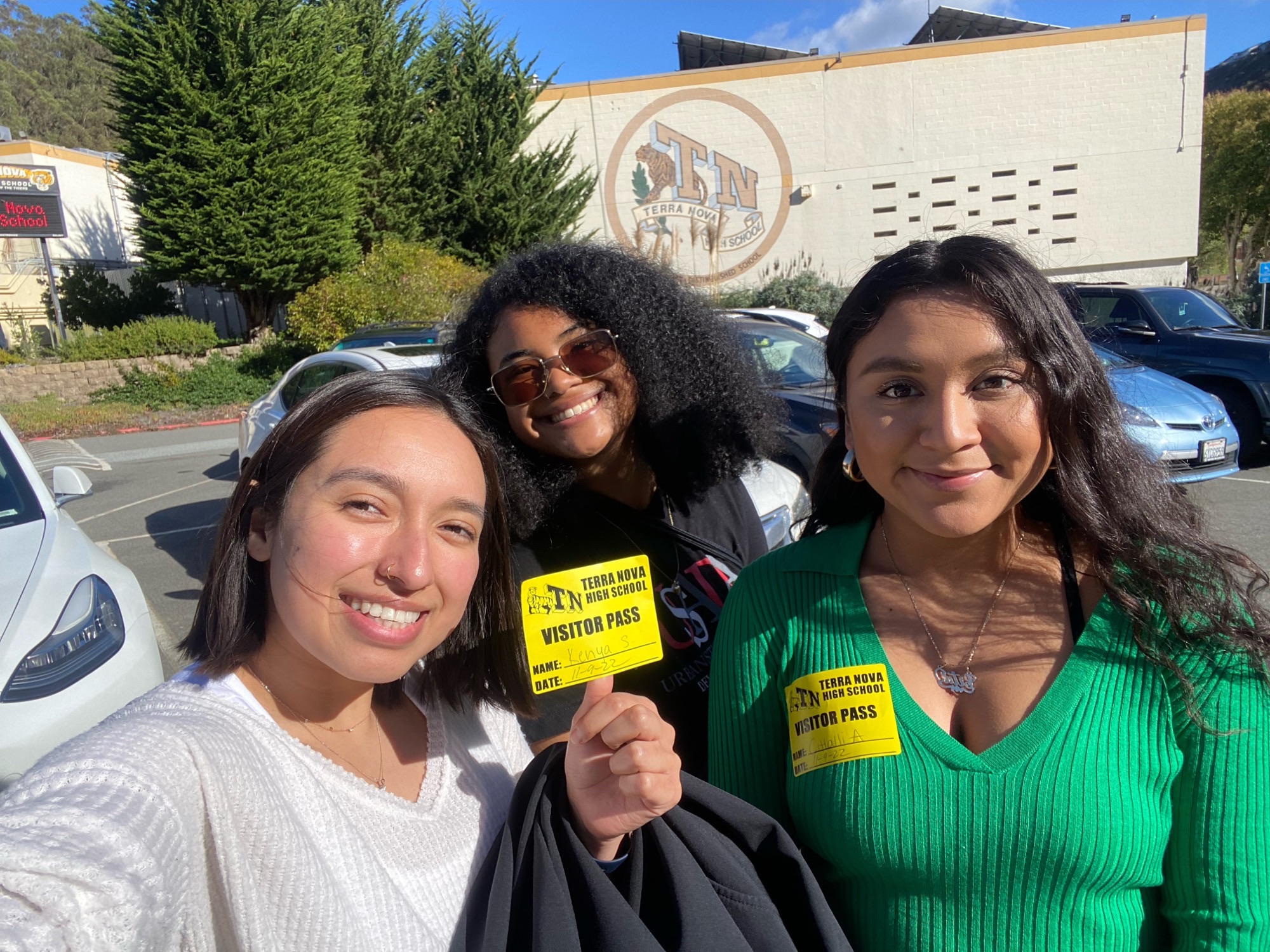 A student finds personal meaning after finding the right major
This feature story is one in a series of articles on the CHSS website aimed at inspiring students to succeed. This article describes that journey of Makayla Wai-Lan Scott (pictured center with classmates), a senior who changed her course of study from Pre-Nursing to Public Health to pursue her career goals.
Submit an Item
February 8 is the deadline to submit items for the February 14 issue of CHSS Connection. Send submissions to mbroder@sfsu.edu.