Students awaken potential with skills learned in academic success course
San Francisco State University is committed to helping students succeed — and students enrolled in an academic success course are learning that they can do just that.
"Every student has a profound capacity to give their gift and the world really needs their gifts," said Adam Burke, a Holistic Health Studies professor in the Department of Recreation, Parks & Tourism. "One of our core gifts as humans is that we are problem solvers."
Burke teaches "Holistic Health 200: Holistic Approaches to Academic Success," a course focused on giving students the tools needed to succeed in college. Holistic Health Studies brings together strategies to help students thrive in college despite the new pressures they face.
Burke said that when we experience problems, it's because we lack information, knowledge and understanding. The course uses a comprehensive problem-solving model to help students apply the skills they are learning to problems that are affecting their everyday success in school or life — by defining the problem, determining the goal, choosing a solution, implementing an action plan, evaluating and redesigning as needed.
Students choose a topic that they want to work on throughout the course. The most popular topics are emotional literacy and mental health, time management and organization, and wellness and health practices. Each person looks at their own personally-defined challenge and does background research to find the root cause of why they struggle. Known as the Kaizen model, this approach helps students find the most important cause of their problem. Every person who procrastinates can have a different reason for that procrastination. There is no one fix for procrastination — and that's why background research is so important. According to Burke, the background research brings an "aha moment," when students really start to make a personal connection with the course. Students leave the class with a toolkit of ways to succeed.
Burke published a study about his research on students' success in the course, titled, "Learning problem solving to manage school-life challenges: The impact on student success in college." He found that seniors, Pell-eligible students and first-generation students were all more likely to stay in school and graduate than students that did not take the course. The study showed there was a 10 percent higher retention rate for seniors, Pell-eligible and first-generation students when compared to their peers.
"Throughout the course there are a lot of strategies taught stress management, time management, social skills, decision making, behavior change and study skills," Burke said. "So people are getting a lot of tools that they have not been exposed to before."
Holistic Health 200 also teaches important skills, such as working with a schedule and using a calendar. People are assumed to know those skills, but that's not necessarily the case. Knowing these skills is part of the problem-solving model — and this course puts them into practice.
Burke believes that taking charge of educational success starts with realizing one's potential. He said, "All of us have more potential to be and to do than we realize and a class like this seeks to help awaken people to their core capability to do more. To be more. To be who they were born to be."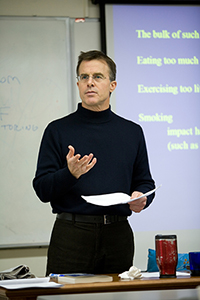 Tags