Alumni News

Christopher Cherney (M.A., Gerontology, '12) is a licensed nursing home administrator; university lecturer on gerontology, health care administration and policy; litigation consultant and single-payer advocate. He is currently the principal of Skilled Review Consulting, LLC. As a lecturer in SF State's PACE Gerontology Program, he has taught GRN 705: Aging in a Multidimensional Context and GRN 765: Aging and Continuum of Care.
Over the past five years, Cherney has worked on more than 250 cases as an expert witness in 17 states. He has given sworn testimony 32 times, including in his first trial last summer that resulted in a $13 million verdict for his clients who won the SF Trial Attorneys' Trial of the Year Award. This year, half of his work has been for law-enforcement agencies. He is the court appointed monitor of three California Skilled Nursing Facilities; usually he site visits each facility monthly. Cherney has three current contracts with the California attorney general and a contract with another state attorney general that requires anonymity. He is in negotiations with two other state attorneys general regarding contracts for subject matter expert services.  
Since graduating from SF State's Gerontology Program, Cherney has worked as assistant administrator at Kaiser Permanente Post-Acute Care Center; executive director at Kindred Tunnell Center; interim administrator at Cambridge Healthcare Services, LLC; adjunct Public Health faculty at San Jose State University; consultant for the Office of the New York State Attorney General, Commonwealth of Massachusetts Office of Attorney General and California Department of Justice; court appointed quality compliance specialist for Superior Court of California, County of Kern; court appointed performance monitor for Los Angeles Superior Court and court appointed monitor for Superior Court County of Santa Cruz. 
Cherney also holds a B.A. in Biochemistry and Minor in South Asian Languages and Culture from Harvard University.
Submit an item
The deadline to submit items for the October 11, 2022 issue of CHSS Connection is October 5. Send submissions to mbroder@sfsu.edu.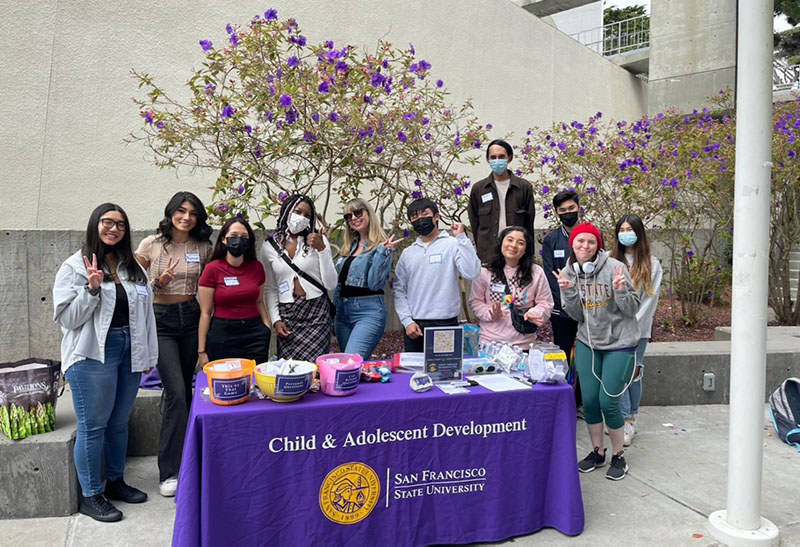 The Child & Adolescent Development (CAD) Club hosted its first Meet & Greet event on Friday, September 16. Members of the CAD Club, students, faculty and staff attended the event on the Quad. The club provided fun questions to pick from to help students socialize and connect.