News

In this second installment of a series of interviews, tenure-track faculty of color share thoughts inspired by a quote from Audre Lord, "When I dare to be powerful..." In this entry, Assistant Professor of Criminal Justice Studies Albert de la Tierra and Assistant Professor of Counseling Cynthia Martinez discuss the importance of being their authentic selves in their scholarship. 
"When I dare to be powerful — to use my strength in the service of my vision, then it becomes less and less important whether I am afraid."
—Audre Lorde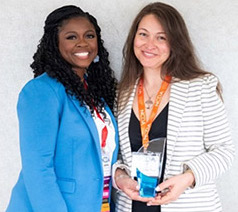 Associate Professor of Counseling Elif Balın (pictured above, right), received a National Career Development Association (NCDA) Presidential Recognition Award from the NCDA president, Lakeisha Mathews, at the NCDA Global Conference in Chicago, for her leadership, advocacy and scholarship within the NCDA committees in the last 10 years.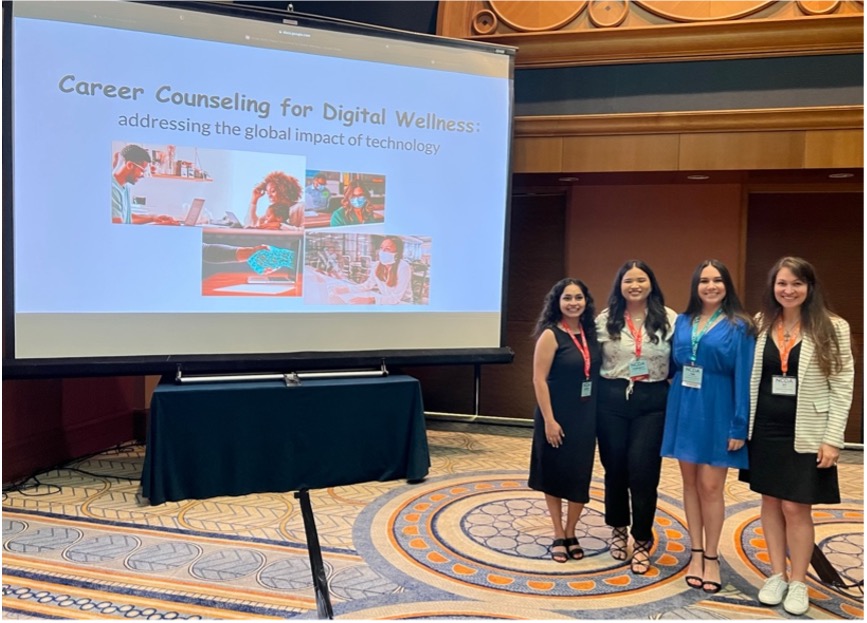 Balın presented with three Counseling graduate students,Jacqueline Aviña Espinoza, Iveth Lopez Obeso and Guadalupe L. Jimenez Martinez at the NCDA conference. For this presentation, Balın used her recent training in Digital Wellness Certification and collaborated with her students to introduce the digital wellness framework to the NCDA community. In their presentation, Balın and her students reviewed the increasing impact of remote/hybrid work and technology on mental health and career development with examples from counseling training and work settings. 

Balın also presented with her two other teams. With Mary Edwin, Yangyang Liu and Zori Paul, she presented their recent co-edited book, "Moments of Excellence in Career Counseling," which accompanies the counseling training video series (for which she collaborated with former and current graduate students from the Department of Counseling). With Pankaj Desai and Mona Ali Zaib, she presented their research on Global Perspectives in Career Services at the NCDA International Student Services Committee — voices from the career practitioners trained in the U.S. as international students and reflecting on the limitations of application of their U.S. training in another country's job market and cultural context.
Assistant Professor of Public Health Supriya Misra and colleagues published a new open-access paper in Social Science & Medicine - Mental Health on colonialism as a fundamental cause of immigrant health, focusing on the Partition of India through the lens of historical trauma and conceptualizing the intergenerational effects on the South Asian diaspora.
Professor Erik Peper (Institute for Holistic Health Studies and Department of Recreation, Parks & Tourism) coauthored an article, "Transforming a 'bad eye' to an 'amazing eye': a case report and protocol," in the July 29 issue of Townsend Letter: The Examiner of Alternative Medicine.
Peper, along with Professor Richard Harvey (Institute for Holistic Health Studies and Department of Recreation, Parks & Tourism) and Nancy Faass, published "TechStress: Building Healthier Computer Habits" in the Fall 2023 issue of Well Being Journal. The article summarizes their book, "Tech Stress: How Technology is Hijacking Our Lives, Strategies for Coping, and Pragmatic Ergonomics," and the concepts may help people transform techstress into techhealth.
Aritree Samanta, associate professor of Environmental Studies, and co-author Shilpa Viswanath, assistant professor in the Department of Public Management at John Jay College of Criminal Justice in the City University of New York, were awarded the Riccucci-O'Leary Award for the Best Article on Diversity from the Public Management Research Association for their article, "Gender Ramifications of a Weberian Bureaucracy: A Feminist Appraisal of the United States Department of Agriculture," published in Perspectives on Public Management and Governance.
The awards committee wrote:
"The article generated knowledge that is both practically and theoretically relevant for diversity, equity, and inclusion (DEI) research in the field of public administration. By critically examining the gender ramifications of Weberian bureaucracy, specifically within the context of the United States Department of Agriculture, the authors shed light on an important aspect of DEI in the public sector. The article's strength also lies in its logical, concise, and clear writing style. The arguments and findings were effectively communicated, making it accessible to a wide range of readers. Furthermore, the article not only deepened our understanding of gender dynamics within Weberian bureaucracy but also provided insights into new avenues to advance DEI in the public sector and public management. By intermeshing critical perspectives, feminist phenomenology, and feminist standpoint theory, the authors crafted a feminist model for appraising the agricultural bureaucracy. This innovative approach opens doors for further research and exploration in the field of DEI."
Their award was recognized at the Public Management Research Conference at the University of Utrecht on June 30.
As part of their summer professional development practicum course last year, Master of Public Health students supported the South of Market Community Action Network (SOMCAN) in conducting a community needs assessment of air quality and traffic impacts in the South of Market neighborhood.
Supervised by Public Health Lecturer Ruby N. Turalba and SOMCAN staff, the students provided a Community-Based Participatory Action Research (CBPAR) training to residents, developed a comprehensive literature review, supported with Spanish translation, collected data at the Jessie Alley Street Fair and from elders affiliated with the Pilipino Senior Resource Center, as well as initiating preliminary data analysis. Assessment findings have been instrumental to SOMCAN's community organizing and policy strategies. They were presented to the SFMTA Board of Directors (see 39:44-1:16:50 in video), culminating in the recent designation of permanent Slow Streets in the neighborhood. Read the final report.
Kudos to MPH 2023 graduates: Robyn Cross, Bonnie Dundee, Maia Feinman-Welcher, Angelina Gutierrez, Daisy Hernandez, Jacquelynn Hoang, Kohinoor Joshi, Georjean Morado, Cynthia Rohrer, Angellynn Tam and Edel Vaovasa.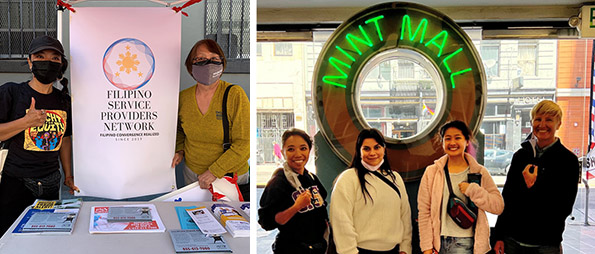 Left: Ruby N. Turalba with Lolita Kintanar, founder of the Filipino Service Providers Network, at the Jessie Alley Street Fair. Right: Ruby N. Turalba, Angelina Gutierrez, Angellynn Tam and Bonnie Dundee at the historic Mint Mall in San Francisco's Filipino Cultural Heritage District.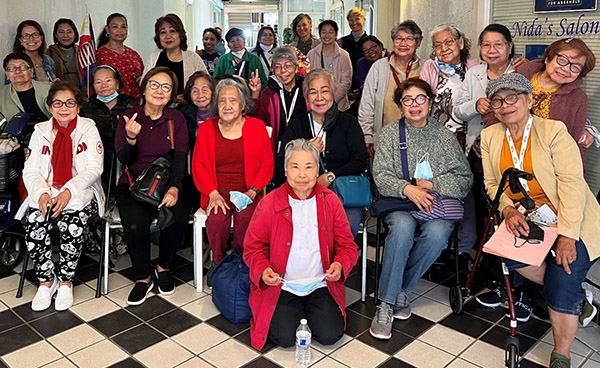 Outreach to elders from the Pilipino Senior Resource Center; pictured in the back row are Public Health Lecturer Ruby N. Turalba and MPH graduates Angelina Gutierrez, Cynthia Rohrer, Bonnie Dundee and Angellynn Tam.
Current Events
University Convocation
Thursday, August 17, 9 a.m.-12:30 p.m., McKenna Theater
CHSS Fall Opening
Thursday, August 17, 12 noon-2 p.m., Seven Hills Conference Center, Nob Hill Room
Prospective Student Information Sessions
MPA Program
August 23, September 12 & 14, October 6 & 16, via Zoom
 
MSW Program
August 29, September 7 & 14, via Zoom
CHSS in the Media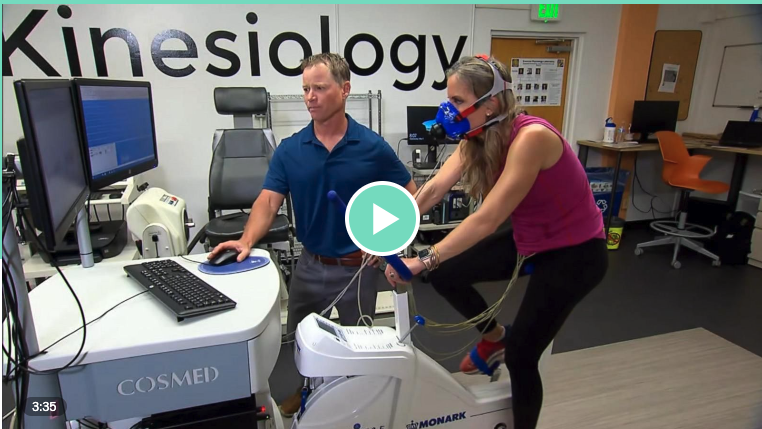 Is it worth it to wake up early for a workout before sunrise? Kinesiology Professor Matthew Lee appeared on ABC's "Good Morning America" on July 18 to evaluate the best time of the day to exercise. Reporter Becky Worley visited Lee in the SF State Kinesiology Department, where she exercised on a stationary bicycle in the morning and afternoon, wearing a mask that tracks her carbon dioxide output.
"You may burn a little more fat in the morning just due to potentially being in a fasted state versus afternoon, but as far as caloric expenditure doesn't make that much of a difference," Lee said.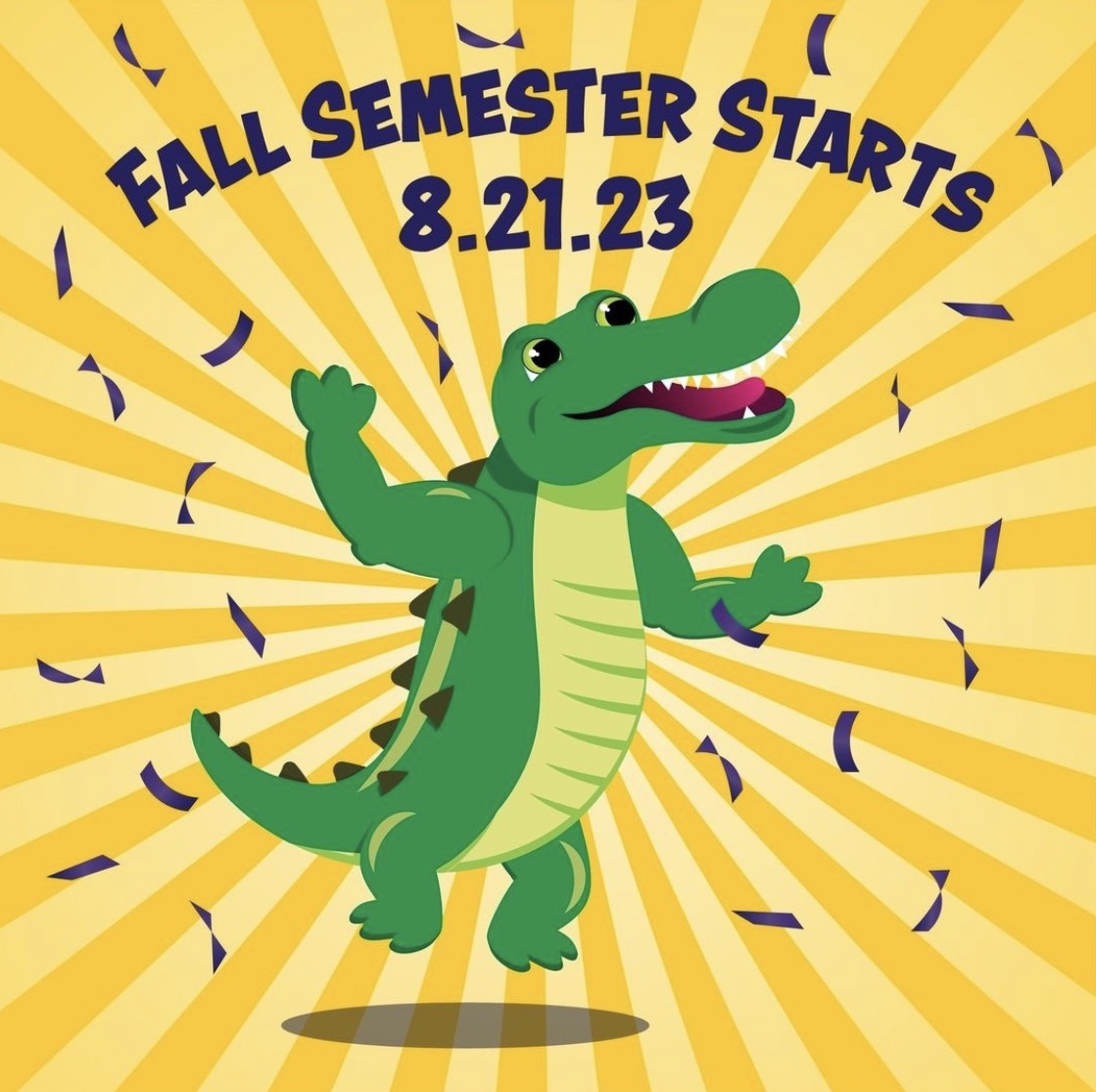 Submit an Item
The deadline to submit items for the August 30, 2023 issue of CHSS Connection is August 24. Send submissions to mbroder@sfsu.edu.