Alumni Features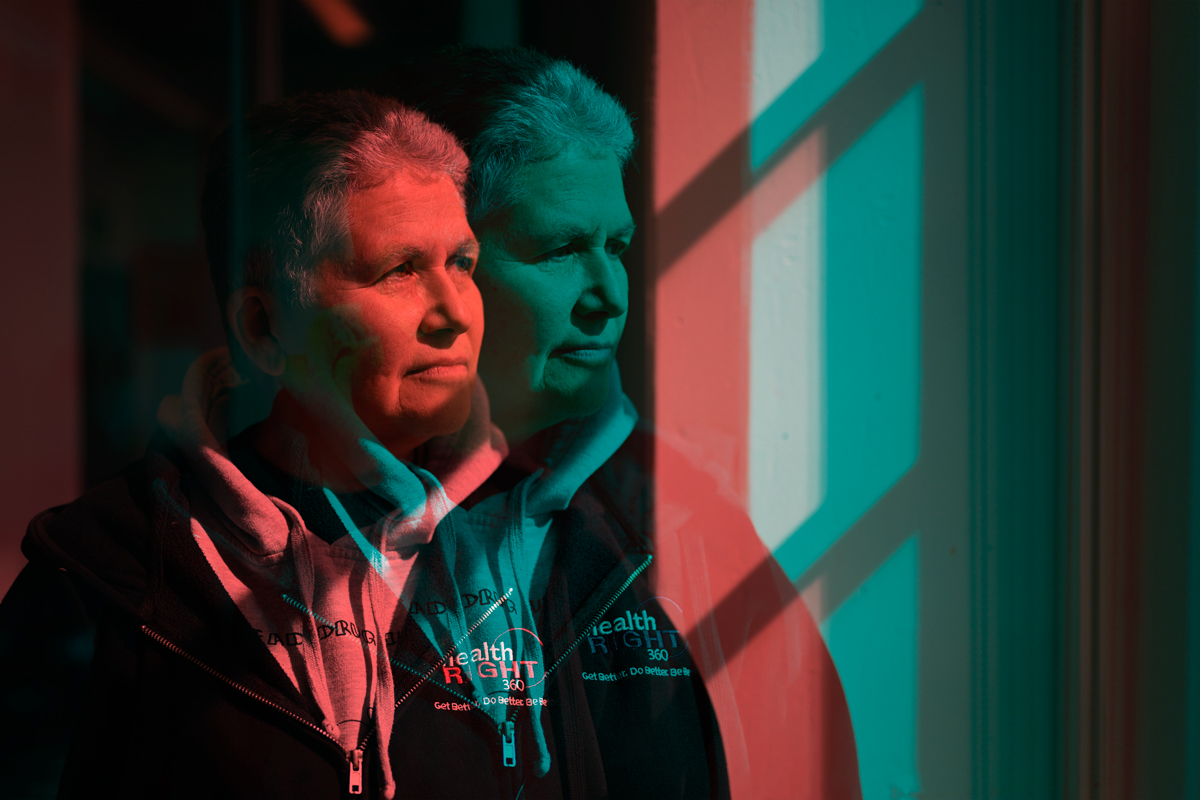 Photo by Deanne Fitzmaurice
Vitka Eisen (MSW, '93) began adulthood with a determination to change the world. But she would have to change herself first: Eisen ended up in a five-year battle with heroin addiction. Fast forward more than 30 years, and she's leading an organization known for giving people addicted to drugs a new shot at life through compassionate care — the same organization where she found salvation.
"She respects people regardless of race or age or spirituality or gender or any of that. She just has a heart for people."
—Jojo Godinez
First-generation student thrives as leader of student organization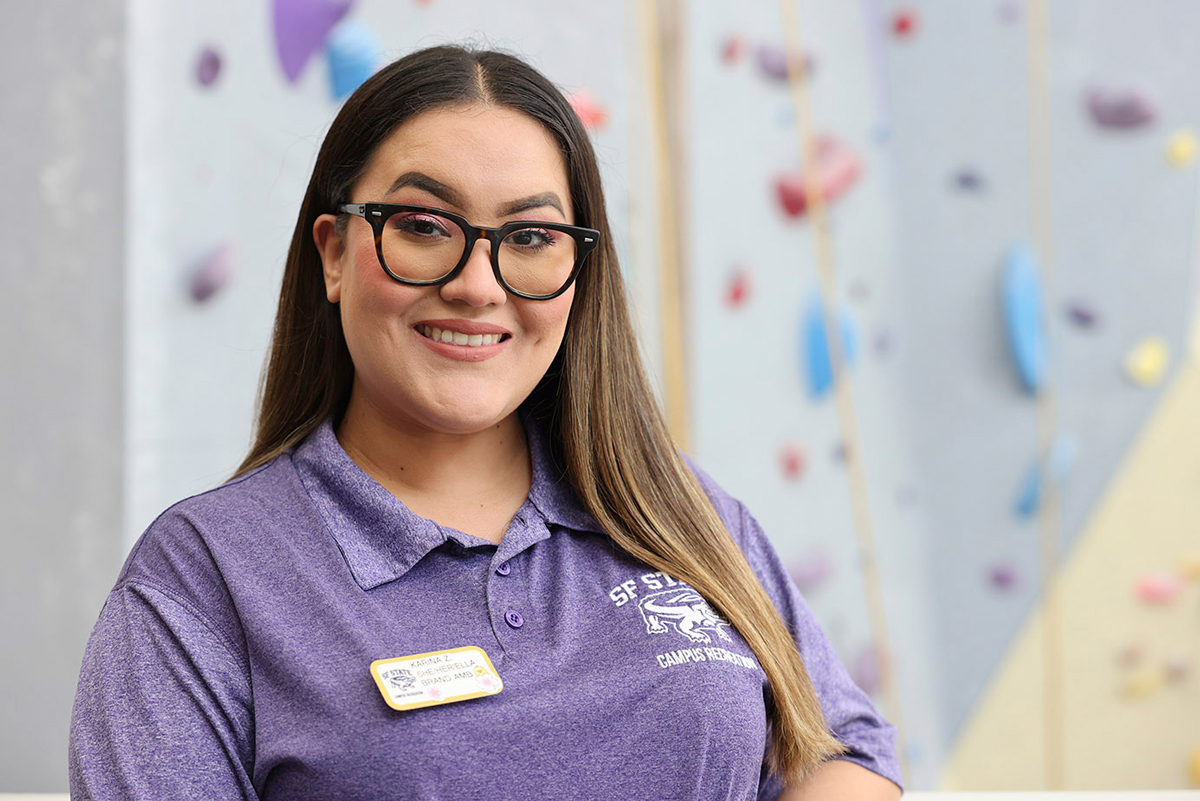 Photo by Paul Asper
Karina Zamora (B.A., '23), a first-generation student double-majoring in Criminal Justice Studies and Philosophy, transferred to SF State in the middle of the COVID-19 pandemic. The challenges posed by remote learning made her determined to connect with other students and become engaged in the SF State community. Her involvement ultimately led her to the presidency of Associated Students. She tells her SF State story in Spring/Summer 2023 issue of SF State Magazine.
"My Gator experience has been one big journey of self-discovery, leaving my comfort zone and learning to surround myself with people who will encourage my growth."
Media
Students from SF State's Apparel Design & Merchandising program were mentioned in an article about a Goodwill project aimed at reducing clothing waste. Mission Local 6/18/2023
Professor Emeritus of Environmental Studies Carlos Davidson commented on California Senate Bill 252, which would prohibit new or renewed investment of public employee and state teacher retirement system funds into fossil fuels. Jefferson Public Radio 7/3/2023 The Press Democrat 6/29/2023; Lake County Record-Bee 6/30/2023; CalMatters (6/29/2023)
Lecturer of Criminal Justice Studies James Dudley is a panelist for an on-demand webinar about police recruitment and retention. 417.news 6/27/2023
Lecturer of Criminal Justice Studies James Dudley commented on city harm reduction policies that reduce the punishment for open drug use. The San Francisco Standard 6/12/2023
Former faculty member John Irwin's role as the founder of Project Rebound and the success of the program was discussed in an interview with California State University, Fresno's Project Rebound outreach coordinator. The Porterville Recorder 6/22/2023
SF State's undergraduate Nursing program was ranked in the top 12 programs in the state. All Nurses 5/23/2023
Assistant Professor of Sociology & Sexuality Studies Jen Reck, who co-chairs the Castro Cultural District, discussed plans to turn the Castro Theater into a nightclub. 48 Hills 6/15/2023
Director of the Family Acceptance Project Caitlin Ryan commented on new anti-trans laws in Florida. The Washington Post 6/8/2023; New York Folk 6/8/2023
Director of the Family Acceptance Project Caitlin Ryan was referenced in an article about the mental health crisis in the LGBTQ+ community. Dallas Voice 6/30/2023
Multiple works co-authored by Director of the Family Acceptance Project Caitlin Ryan and Robert Rees were discussed in an op-ed written by Rees. Salt Lake Tribune 6/15/2023; Easy Branches World News 6/15/2023
Associate Professor of Sociology & Sexuality Studies Clare Sears commented on proposed anti-drag legislation. (This article has a paywall.) The Washington Post 6/30/2023
San Francisco City Supervisor Shamann Walton, an alumnus of the MPA program, was interviewed about his new book "From Juvenile Hall to City Hall: Your Resume Can Change." 48 Hills 6/7/2023
Professor and Chair of Recreation, Parks & Tourism Jackson Wilson commented on the San Francisco Travel Association's new tourism campaign. San Francisco Examiner 6/5/2023
Professor Darlene Yee-Melichar, coordinator of the Gerontology Program, was appointed to serve as a CSU Trustee by Governor Gavin Newsom on June 29. California State University News 7/10/2023; San Mateo Daily Journal 7/3/2023; Lake County News 6/30/2023; EdSource 6/30/2023
Take a peek inside the College of Health & Social Sciences! (Video by Cecilia Cao, student assistant in CHSS Communications)
Submit an Item
The next issue of CHSS Connection will be published on August 16, 2023.
The deadline to submit items for the next issue is August 10. Send submissions to mbroder@sfsu.edu.
CHSS Connection will return to a twice-monthly schedule at the start of the Fall '23 semester.