Two outstanding students to wear CHSS hood at 2023 commencement
May 12, 2023

As part of a longstanding tradition, each of the San Francisco State University's six academic colleges selects an undergraduate and a graduate student to represent their classmates and wear their college's academic hood during the Commencement ceremony. A dozen outstanding graduates will receive this honor during SF State's 122st Commencement ceremony, to be held at Oracle Park Friday, May 26. They will represent their more than 7,900 graduating peers in the Class of 2023. More details about the ceremony are available on the Commencement website. 
Representing the College of Health & Social Sciences are: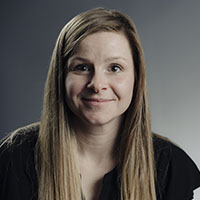 Cassandra Marie Osorio
B.S., Kinesiology
Cassandra "Cassy" Marie Osorio began her academic journey in 2009 at the University of Wisconsin, Green Bay. Unable to focus on school, she left in 2011 and joined the U.S. Navy, where she spent the next eight years of her life. During that time, she was able to try out different roles, including command career counselor, where she advised enlisted personnel on retention and promotion and helped them identify next steps and areas to work on. She was also an assistant command fitness leader, training and educating sailors to meet the Navy's minimum fitness standards.
She left the Navy in 2019 and decided to return to college to earn an undergraduate degree in Kinesiology. By then she was married with a young daughter. She transferred to SF State from City College of San Francisco in 2021 and maintained exceptional grades while also being a full-time caregiver to her now two children.
Osorio was an undergraduate teaching assistant for two courses and served as president of the Kinesiology Student Association. She is currently exploring careers in occupational therapy and fitness and wellness.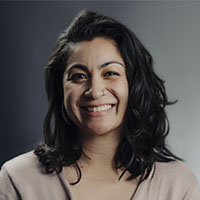 Cristina Cabiles
M.S., Clinical Mental Health Counseling
Cristina Cabiles brings her lived experience to her training and her work. As a woman of color, she understands the needs of BIPOC communities and approaches them with cultural humility, compassion and exceptional advocacy. 
While at SF State she pursued a number of internships, which resulted in structural changes within the organizations. In her first-year internship she served as a behavioral health intern at the Daly City Youth Health Center, providing counseling and resources to students in a school setting. In her second year, she was a wellness counseling intern in the Jefferson Union High School District and provided clinical and employment counseling to students. She is a disability rights advocate and brings a social justice lens to all aspects of her work. 
She researched the lived experiences of people with disabilities during the pandemic and presented her findings at an international conference, as well as co-authored a manuscript, soon to be submitted for publication. Her culminating experience paper continued this focus as she explored the following topic: "Application of Family Systems Theory to Transition-Age Youth with Disabilities."
She's actively working to diversify the field of counseling by participating in the California Association for Licensed Professional Clinical Counselor Fellowship Mentorship Program, where she mentors other BIPOC students pursuing mental health counseling careers and counseling licensure.
A "boomerang Gator," Cabiles earned her undergraduate degree in Health Education from SF State in 2014.
Read about hood recipients from all colleges in SF State News.
Tags